Philly Limo Service
Let our Philadelphia Limo Service surprises you at your next special events. We have not only beautiful limo buses in our fleet but also luxury limos that will go perfectly with your wedding, birthday party, or bachelor/bachelorette party. Luxury transportation services have the extraordinary power to make an event unforgettable. You might think a limo rental is inaccessible because of their hourly rates, but we have good news for you. Our limousine service has affordable prices and great service, as you deserve.
Limousine services are also suitable for corporate transportation and airport transfer demands in Philadelphia, PA. A professional chauffeur will promptly pick you up and drive you to your final destination. Plus, we know you will find here the perfect vehicle for your corporate events. We have luxury sedans that can offer you comfort and a reliable ground transportation service at the same time. All our vehicles are equipped with amazing features to provide you with a top limo experience. That's why we can proudly state that our company offers the best limousine service in Philadelphia, PA. Book our party bus or limo service and be ready to be surprised by the high quality and pricing.
The right limo rental for your special occasions
For all your special events, we have the perfect limo service in Philadelphia, PA. We have a large selection of limos that will allow you to choose the one you've always dreamt of. You will find here your dream wedding limo that will help you do the big entrance to your ceremony. And speaking about big entrances, what about having a dramatic one for your prom night? As weddings, prom nights are a major event in one's life. Therefore, you better choose a professional limousine transportation that includes a professional chauffeur.
However, if you want to celebrate with a large group and not only have the comfortable ride our Philadelphia Limousine service offers, we suggest you consider our party buses. Just like a luxurious limo, a party bus could be the center of attention at your next party. We are aware that prom nights and weddings are usually expensive and take a lot of planning time. Taking this into account, we provide transportation services that have accessible pricing. We want that everybody in the city of Brotherly Love enjoys our flawless limo services!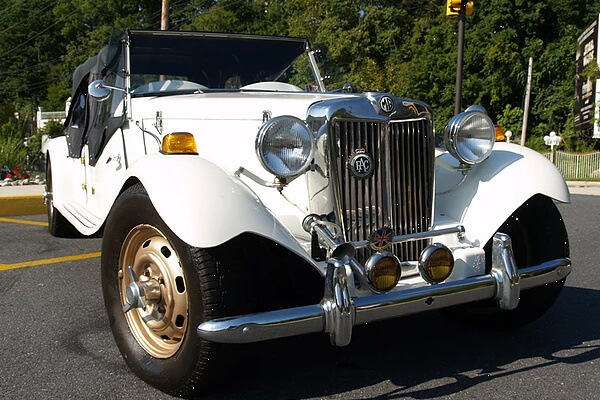 The perfect vehicle for special events! Give our vintage wedding limo a try, and have the fairy tale wedding you have always dreamt of.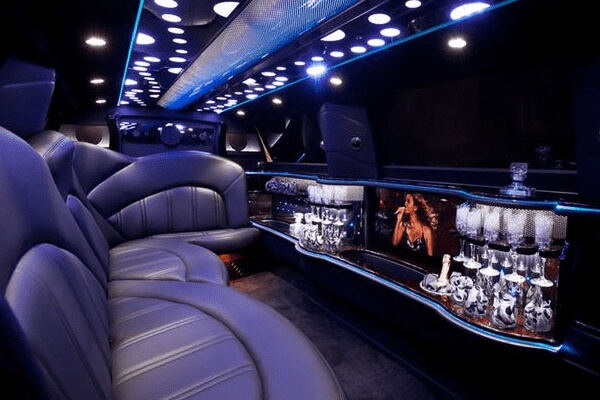 Philly Party Bus has amazing limos like the one you're looking at above. They are the perfect ground transportation way for any occasion.
Limousine services for airport transfers and other occasions
The Philadelphia Limousine service we provide is perfect for airport and corporate transportation. The great service we offer is exactly what you need to have a stress free ride in the city of Brotherly Love. We have luxury sedans that have all the amenities you expect. That way, you will have the comfortable limo experience you deserve. Our limo services are also a great choice in case you want to give your employees a good treat. You can think of our limo service as a way to show them how much you care about them. If they are a large group and you think they won't fit in a limo, you can also book our shuttle buses. All of our luxury transportation services have competitive prices. Call now and ask about our limo service in Philadelphia, PA.
Besides airport and corporate transportation, our limo rental is suitable for sporting events. It's the perfect ground transportation when your sports team needs to attend a formal event in Philadelphia, PA. For example, a press conference or a sports award gala. They are the event stars, and as the stars, they need a dramatic entrance and a professional chauffeur who takes them on time. Just think about it; it would be an amazing way to show up at their next event in Philadelphia, PA!
What makes us the one stop for limo service in Philadelphia, PA?
You and your requirements are our priority. We work hard daily to meet your expectations and even exceed them. That's what makes our transportation services so popular in the Philadelphia, PA, limo market. In addition to that, we have an extensive fleet of limos and shuttle buses that will help you shine on your special occasions. Having a large selection of luxury vehicles is important, so you can choose the one that suits your event the best. We also service the greater Philadelphia area and many cities in Pennsylvania. Some are Plymouth Meeting, Blue Bell, Aldan, Exton, and others. Reach out now, and we will tell you more about our Philadelphia Limousine service and how much it will cost according to your requirements.