Weddings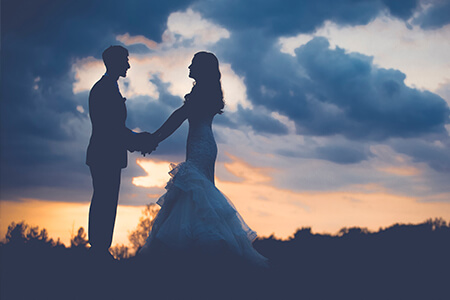 Weddings are among the most special and tender of events that can happen in ones lifetime. Keeping this in mind, it's all the more important to ensure that your wedding is an enjoyable, pleasant experience for everybody involved. Your wedding is a day that you'll remember for the rest of your life, and you want to ensure that those memories are of a positive nature to set the tone for the rest of your days with your loved one. Philadelphia is home to amazing wedding professionals in the industry such as photographers, videographers, bridal boutiques and salons, as well as venue spaces and more. It's safe to say that with the right planning, your wedding in Philly will be a moment to remember for the years to come.
Be sure to pick a fitting venue for your wedding! There are seemingly unlimited choices for a picturesque wedding ceremony in Philadelphia. With many upscale hotels as well as ballrooms and outdoor choices, you're sure to find a venue to reflect your personal style. There's one part of your wedding that's more important than the rest of them, and it has to do with how you'll get from place to place. After all, you'll need to get from your pictures to your ceremony, as well as your ceremony to your reception, and wherever else the bride might want to go!
You can bet that a party bus in Philadelphia is the ultimate wedding day transportation. Many people rent limousines, only to be disappointed in the amount of space that's available, as you can't stand in a limo! However, with a party bus, you'll be able to enjoy amazing amounts of space while you're on the way to tie the knot. There's no way you'll be nervous when you have a premium bar with ice at your fingertips, and a dance floor to work off those nerves!
When it comes to your wedding, you only want the best of the best, and that's totally understandable. After all, you deserve it! Philly Party Bus is known to be the transportation company to depend on when you're looking for something that goes above and beyond the standards. You'll have everything in place to enjoy your special day, including a top notch stereo system with iPod inputs for a custom wedding playlist, as well as tinted windows, and flat screen televisions with DVD inputs for a slideshow of the happy couple.
You can trust Philly Party Bus to provide you with the best possible wedding day transportation in Philadelphia. With such a long history of amazing service and a fleet of renovated vehicles that are sure to make the right first impression, there's no other choice for your wedding day! We have customer service agents on the phones around the clock to ensure that all of your needs are taken care of. Give us a call when you're ready to reserve your Philly wedding day transportation. We look forward to making all of your wedding day dreams come true.
Back to Events