Sports Events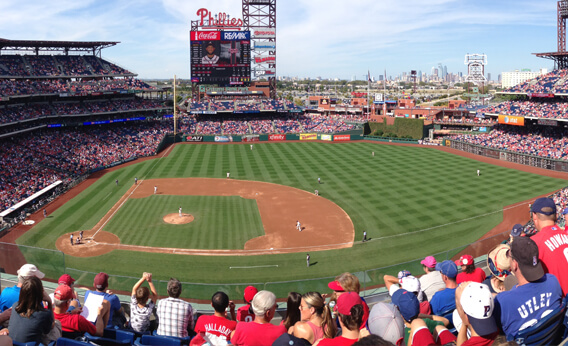 If there's one thing for certain, it's that Philly residents love their sports. In fact, Philadelphia has been named one of the best places to observe some sports, so you can bet that that games are just as lively as the fans. Although watching the game at the bar with all of your friends is fun, you can't beat the experience of going to a game yourself. You're going to love going to a sporting event in Philly, and even more so if you follow our suggestions for your next sporting event in the city. No matter which team is your favorite, the Flyers, Phillies, Eagles, or the 76ers, you're sure to enjoy our suggestions for amazing transportation.
The next time you happen to plan a game day with all of your friends, be sure to consider all of your options for transportation. There's nothing better for your day than professional transportation from Philly Party Bus, and we'll tell you why. Downtown traffic nearing the stadiums is hectic, to say the least! Nobody wants to deal with the road rage that will surely ensue when you're making your way to the stadium, and you won't have to with a party bus. When you rent one of our luxury buses, there won't be a need for finding directions to the stadium, as our chauffeurs know exactly how to get there, and the best possible route to take with their GPS. Finally, the tiring task of finding a designated driver is a thing of the past with chauffeured luxury limousine service!
We bet you've never tailgated in a party bus before! We'll have you know that it's the best possible way to have an amazing time before the game even starts! Plus, with a Philly party bus, there won't be any worries about getting caught in bad weather when you're trying to pre game. With all of the different features that are included, you'll be tailgating like nobody else in the area, that's for sure! Our buses have the best features in the area, with stripper poles, flat screen televisions, ice filled bar areas for your convenience, wraparound leather seating, tinted windows, MP3 capable sound systems, exotic hardwood dancing floors, and much more.
It's safe to say that your sporting experience in Philadelphia will be a fantastic one with Philly Party Bus. There's no other company in the area that offers quality and affordability without sacrificing service! Our customer service agents are always glad to answer your questions and help you find the best vehicle for your sports game in Philadelphia. We'll pick you up and take you to wherever it is you want to go, whether you'd like a tour of the city before you head to the stadium, or you want to grab a bite to eat at the local bar after a game. It's all up to you, and it's bound to be a memorable experience for you and your friends when you ride on board our limo buses, so give us a call today!
Back to Events