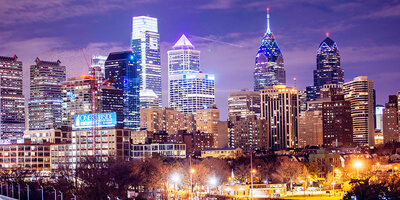 Philadelphia is the largest city in Pennsylvania, the sixth-most-populous city in the United States and the fifty-first most populous city in the world. "The City of Brotherly Love," Philadelphia, is home to the Liberty Bell and Philly cheesesteaks.
Philadelphia's neighborhoods are divided into large sections—North, Northeast, Northwest, West, South and Southwest Philadelphia—all of which surround Center City, which corresponds closely with the city's limits before consolidation in 1854.
The city contains many art museums, such as the Pennsylvania Academy of the Fine Arts and the Rodin Museum, which holds the largest collection of work by Auguste Rodin outside of France. The city's major art museum, the Philadelphia Museum of Art, is one of the largest art museums in the United States.
About Us
For the past 10 years, Philly Party Bus has been providing quality transportation services for parties and travels around the entire Philadelphia area. Our commitment to total customer satisfaction has made us one of the top Party Bus providers in this side of America and our customer base just keeps on growing every day.
Our professional and dedicated chauffeurs have been trained extensively and chosen based on experience to ensure that your travel around Philadelphia is smooth, safe, and truly memorable.
The buses that we have are the most modern in their respective models. They are all brand-new and top-of-the-line as Philly Party Bus truly invests in top quality vehicles so that our clients will get the best and only the most modern buses in Philadelphia.
Philly Party Bus has grown over the years to 10 modern buses from a fleet of three vehicles. Because our clients keep coming back to us and the word of mouth about our quality services has been spreading like bushfires, Philly Party Bus has expanded in just a few years, making us the biggest Party Bus provider in Philadelphia that offers personalized service.
Our staff is composed of transportation professionals, interior designers who provide their magic touches to all of our buses, courteous chauffeurs, and customer service representatives who will assist you from the very beginning until your party or transportation needs are met.
So when you plan of going around Philadelphia or holding a party with friends, don't settle for anything less. Call Philly Party Bus now to make sure that your party is truly fun and exciting.